100 YEARS
OF MOSCOW
METRO
BUILT AT VARIOUS TIMES, MOSCOW METRO STATIONS SIGNIFICANTLY DIFFER FROM EACH OTHER. THEIR LOOK REFLECTS THE REALITIES OF CONSTRUCTION PERIOD, SO METRO CAN BE CALLED AN ORIGINAL CHRONICLE OF THE SOVIET AND RUSSIAN HISTORY. TODAY WE HAVE AN OPPORTUNITY NOT ONLY TO REMEMBER THE PAST, BUT ALSO TO LOOK INTO THE NEAR FUTURE AND SEE HOW THE CAPITAL UNDERGROUND SYSTEM WILL LOOK LIKE ON THE VERGE OF ITS 100TH ANNIVERSARY.
the 1880–1930s
FIRST PROJECTS
The history of Moscow metro began long before its official opening. The first ideas for construction of an off-street transport system in Moscow arose as far back as 1875. It was proposed to build the line from Kursky railway station to Maryina Roscha through Lubyanskaya and Pushkinskaya squares. However, the matter did not get any farther.

In 1902, not only ideas, but the first detailed draft of the electric high-speed off-street railway" was proposed. Developed by A.Antonovitch, N.Golinevitch and N.Dmitriev, this underground project did not meet a strong support.

In 1903, engineers P.Balinsky and E.Knorre worked out a project which at first received a warm reception by a number of entrepreneurs and officials in Moscow, but in the end was rejected by municipal administration due to "lack of funds", protests of the clergy and archeological society.

AREST OF ENGINEERS
Travel abroad was the reason for repression of six engineers, including S.Rozanov, K.Myshenkov and A.Gerbko. In October 1930, technicians with pre-revolutionary and foreign education were arrested, accused of sabotage and sentenced to a 10-year imprisonment in a concentration camp. However, in January 1932 it was revealed that only 20 of the 365 employees of Moscow metro administrative department had engineering background. On January 14, 1932 Myshenkov and Rozanov were released with a suspended sentence.
"Is it possible to tolerate this sinful dream? Will a man, created in God's image, humiliate himself by descending into hell? And God only knows what is down there which a sinful man should not know"

1/2

"The project of Messrs. Knorre and Balinsky strikes with a defiant infringement upon what is dear to all Russian people in Moscow…"

2/2
The first projects of the underground were mainly open. Most lines were planned to let go on the overpasses, embankments and shallow trenches. There were several reasons to this: no one in Russia was mentally ready to a real underground system. And apart from that, there was no equipment for tunneling.

The population of Moscow came close to two million people, and in 1912 the city authorities organized creating of a metro draft. This project involved construction of three diameters as well as the line over the Garden Ring in the long view. Intentions appeared to be serious this time, but First World War prevented their implementation, and then the Revolution and the Civil War broke out.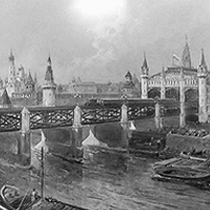 "The sinful dream is an attempt to penetrate into the underworld"
Why did they fail to implement the Balinsky-Knorre underground project in the 1900s?
The first engineering projects of Moscow metro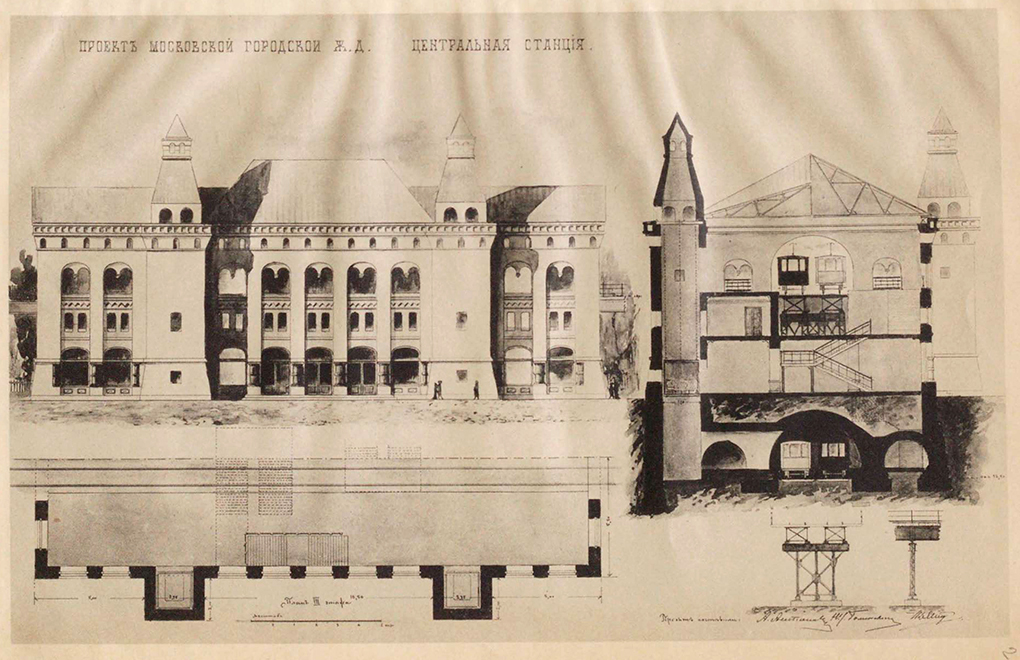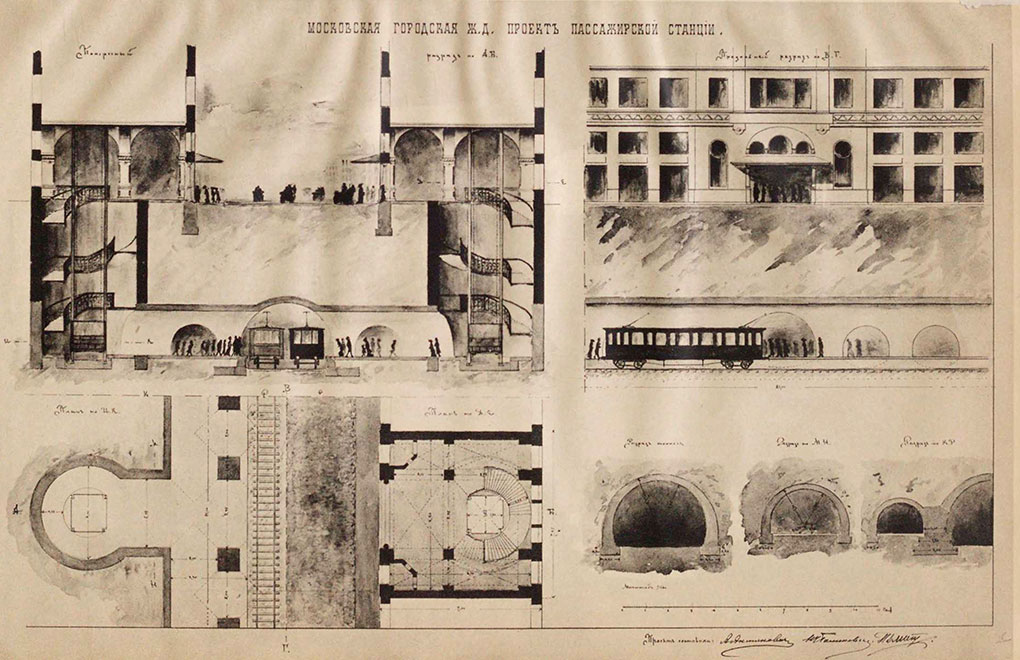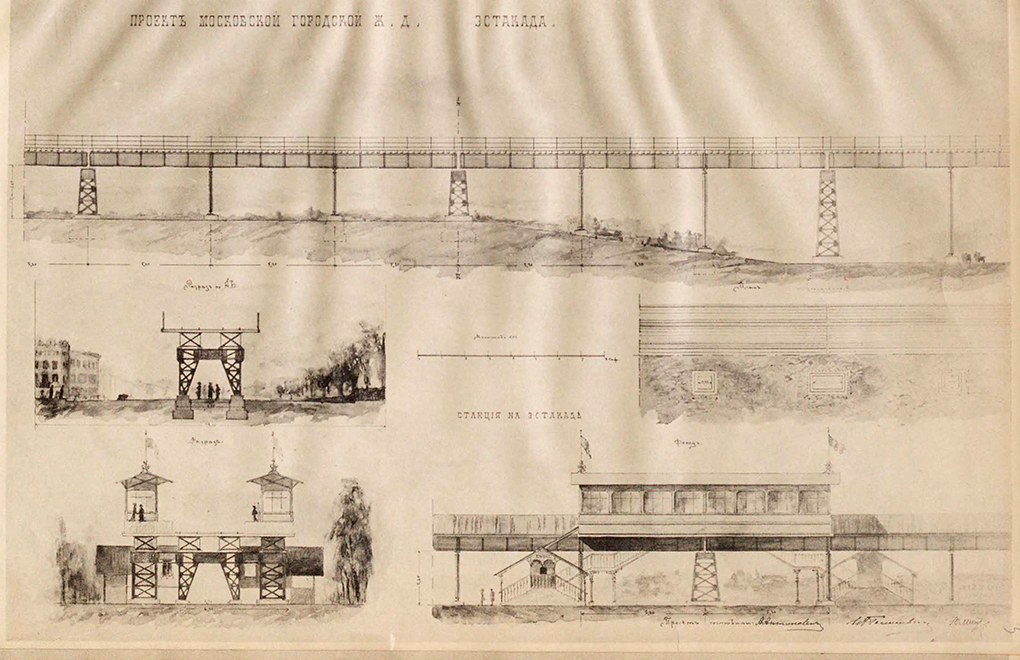 The underground project worked out by A.Antonovitch,
N.Golinevitch and N.Dmitriev
After the Civil War, engineers S.Rozanov and K.Myshenkov of the Moscow Municipal Railways (MNR), took up reviving the underground project. In the 1925-1930s an outline, resembling the 1912 project, was made in MNR with an only difference – the new project had underground track plotting. While working on it, Myshenkov and Rozanov were arrested as enemies of the people.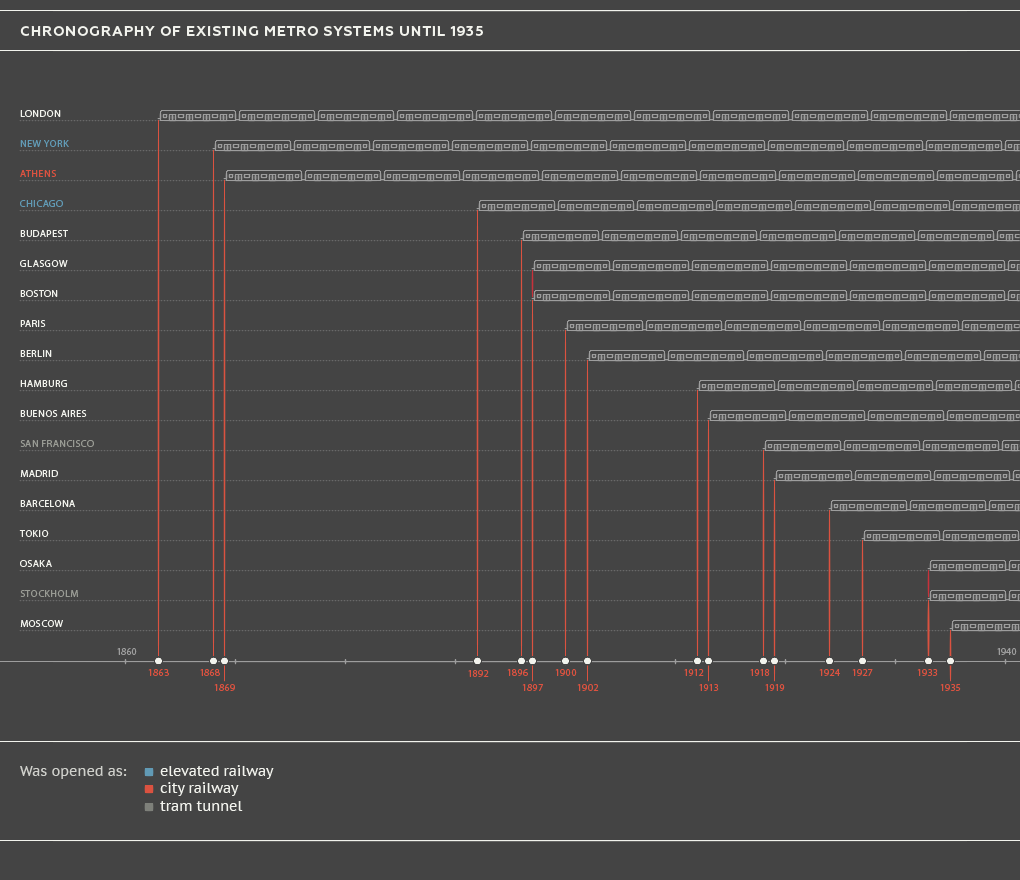 the 190–1940s
"PALACE FOR THE PEOPLE"
By the early 30s the population of Moscow has reached nearly three million people. The transport problem has worsened, and the decision was made to immediately start preparatory works for the construction of metro as the principal means of fast and cheap passenger transportation. On September 3, 1931 Metrostroy, headed by Pavel Rotert, was established. Lazarus Kaganovitch was appointed construction supervisor.

The architecture of that period was almost the main tool for propaganda of the Soviet government. Metro stations were no exception: they were supposed to demonstrate the advantages of the socialist regime over the capitalist one.

Metro was placed not only before a functional challenge of a transport for passengers, but also ideological one – to be the Palace for the People. Lobbies were supposed to be light and neat, and make people, descending under ground for the first time, have no fear or discomfort and feel excited, enthusiastic and proud for their country.
~2

FOLD
is how much the population in
Moscow increased by the early 30s
Josef Stalin's speech on metro launch in Moscow on May 15, 1935
Lazarus Kaganovitch on construction of Moscow metro
Architects of different generations and various schools worked on the looks of first metro stations. However, they all managed to create the ambiance of festivity and enthusiasm. All pre-war stations can be attributed to the Soviet version of art déco style, with certain assumptions.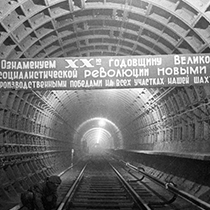 "To start directing all overland lines to the metro ones"
How was Moscow metro being built in the 1930s and why were foreign machines stripped to screws
The legend about dirigible at Mayakovskaya station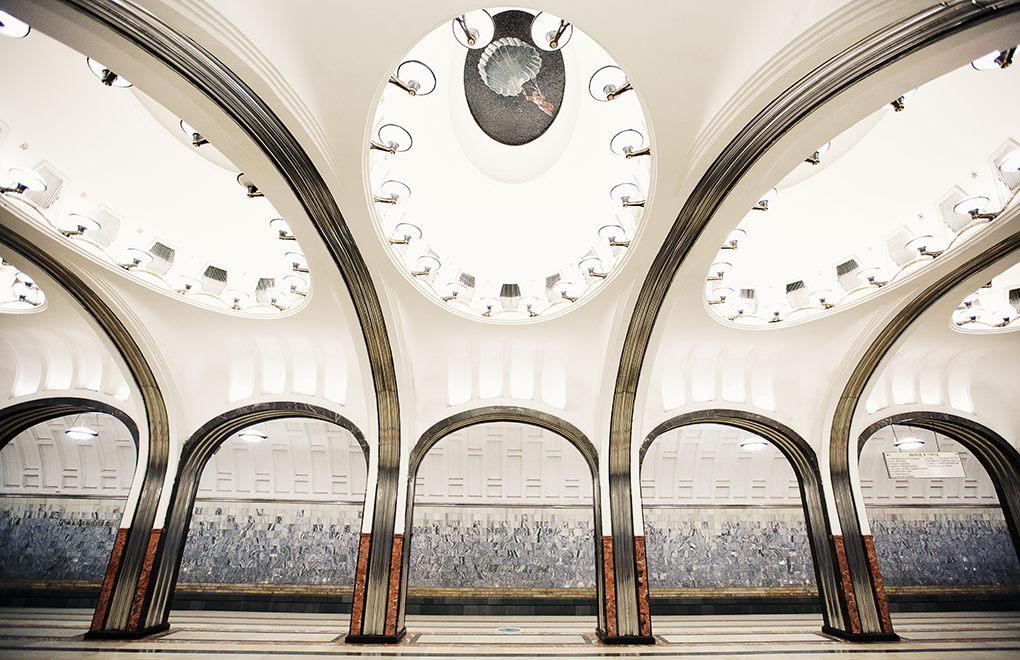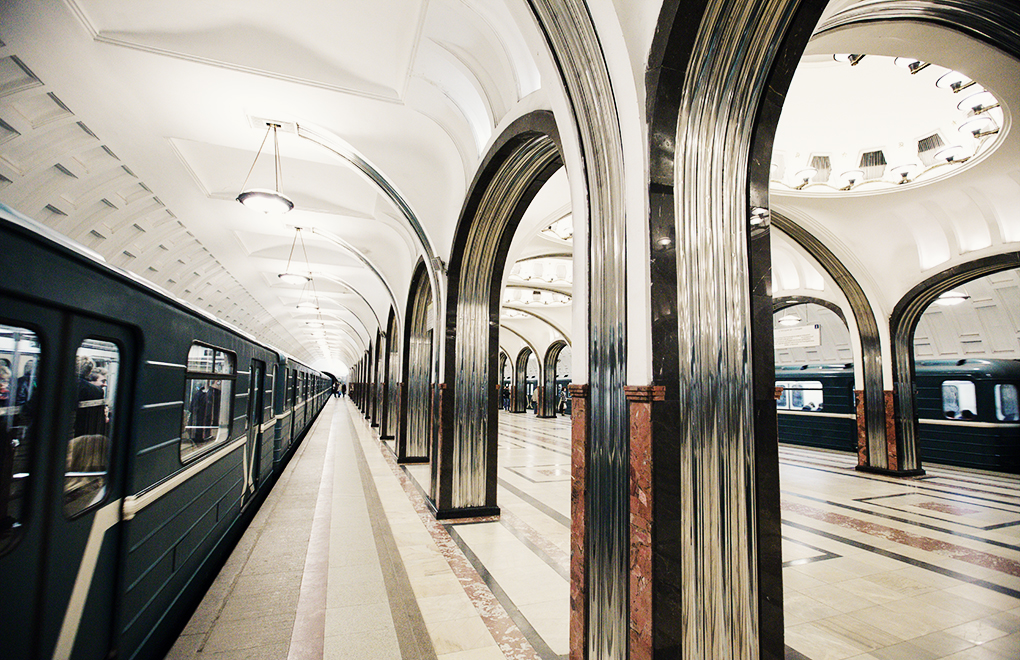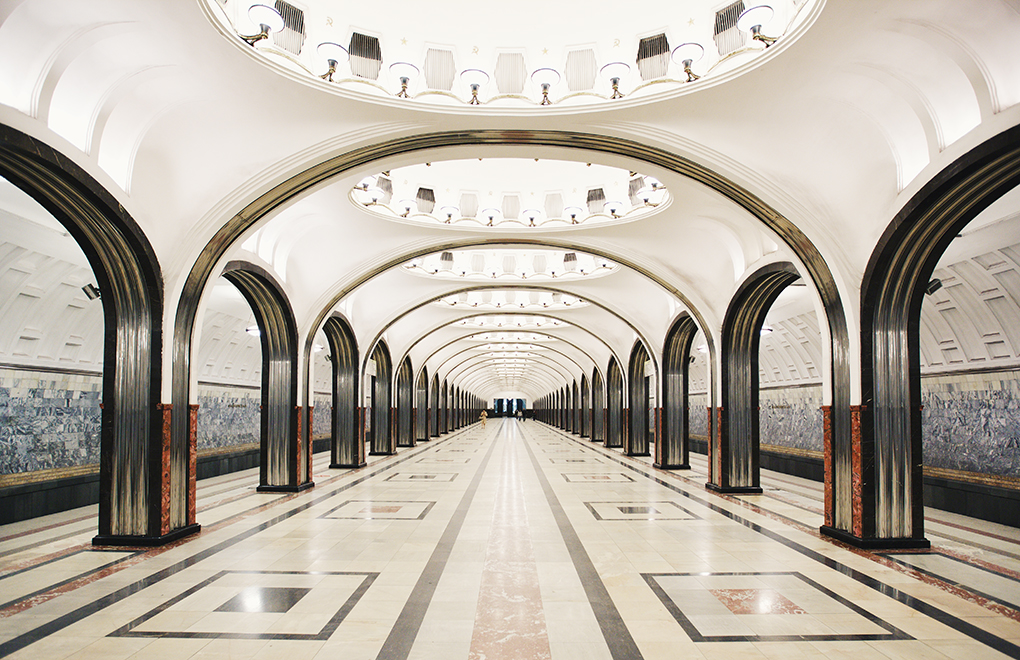 Pillar Hall of Mayakovskaya station Photograph: Evgeny Ivanov
There is a myth saying that, while designing Mayakovskaya station, small pieces of "Tsyolkovsky's dirigible" were used. It is not exactly true, but the legend was born from the station's real story.

They used corrugated steel sheets in the design of the columns and arches of Mayakovskaya station. These sheets were manufactured in 1938 using machinery designed for the production of stiffening ribs for "Tsyolkovsky's dirigible".


There is also a wide-spread wrong opinion that the parts of this dirigible serve a decorative function and also sustain the vaulting of the station.
the 1940–1950s
Triumph and Victory
Built during and after the Great Patriotic War, metro stations became patterns of Stalin's Empire style. A feeling of triumph of the Soviet people runs through their entire design. Especially after the victory in this war.

Stations, open at wartime, were projected as far back as the 1930s, and gained a symbolic significance, emphasized in a decorative way. The leading motif for stations' design of that period was glorification of Red Army, nation of victors and its leader.

On the one hand, the design of stations embodies the idea of commemoration of the Great Patriotic War, on the other hand – of triumph and glorification of the Victory as well as a festive peaceful life. The whole pompous design of Circle line stations looks like it is performing the famous "Ode to Joy".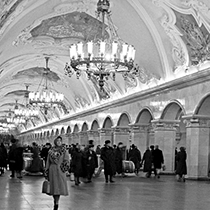 The peak of Stalin's Empire style
In the 1940-early 1950s metro also served as a temple and bomb shelter in case of nuclear war
THE SEALED GATES IN MOSCOW METRO
After the war, many stations of Moscow metro were built with regard to a possible employment by an enemy of weapons of mass destruction, such as atomic, chemical and bacteriological ones. For example, in tunnels and lobbies sealed gates were installed, which, after closing, would turn a station into an independent autonomous town with its own electricity supply system and ventilation. 13 minutes after alert signal the gates are hermetically shut.
Architecture of the stations open in the 1950s is no longer just palatial, they almost look like temple: lobbies are wider and higher, design is much more pompous and solemn. This was all meant to glorify the Victory and embody the dream about peaceful postwar life where every single detail should be beautiful and of high quality.
THE STORY OF MOSAICS AT NOVOKUZNETSKAYA STATION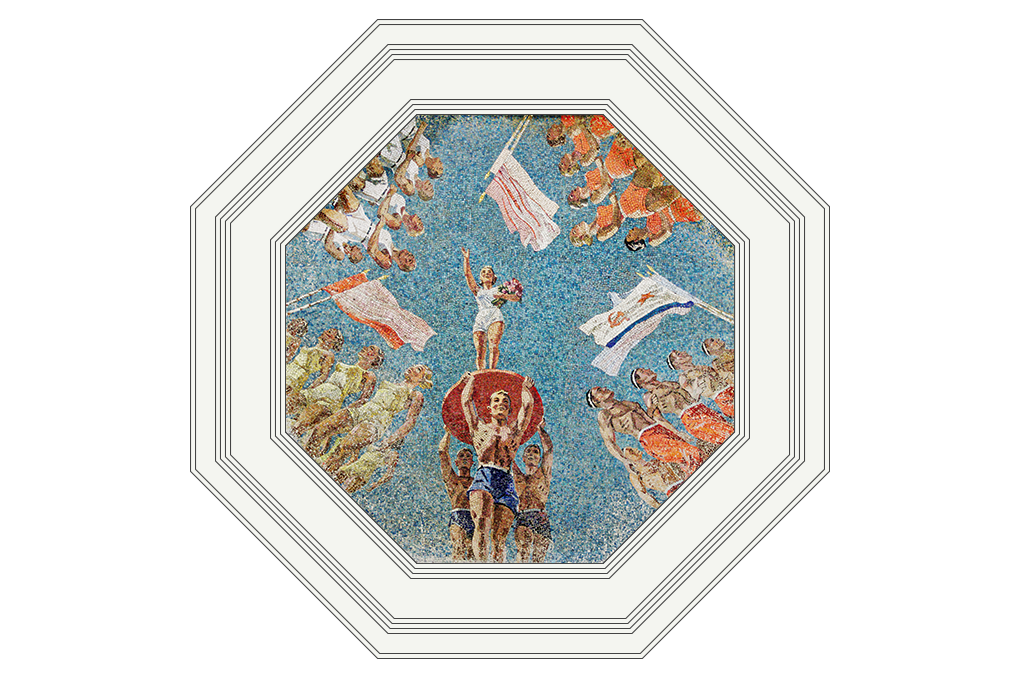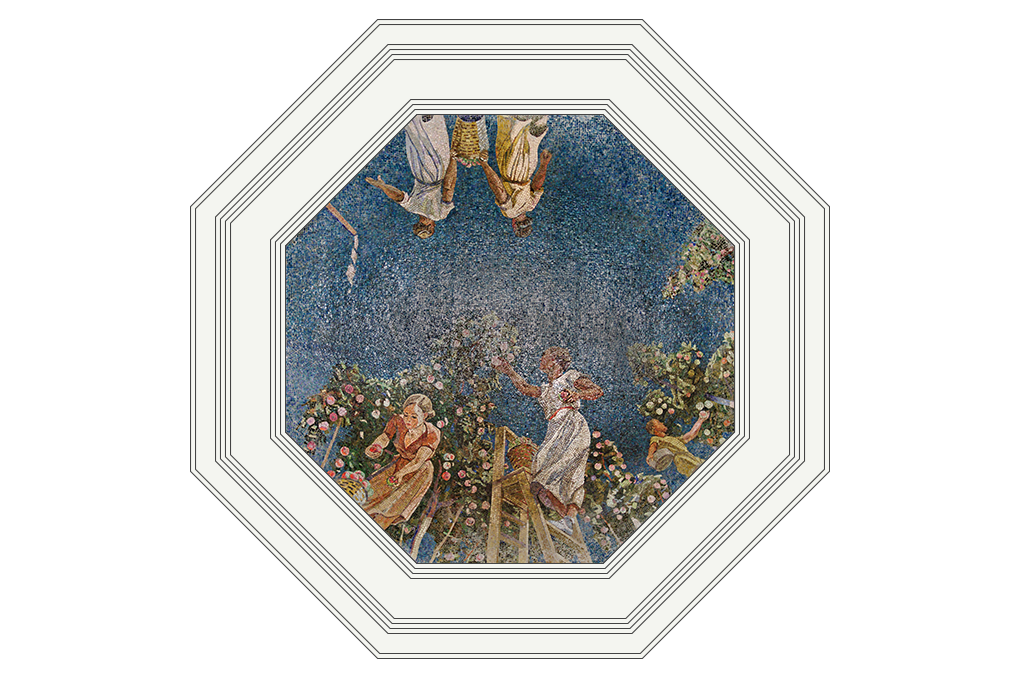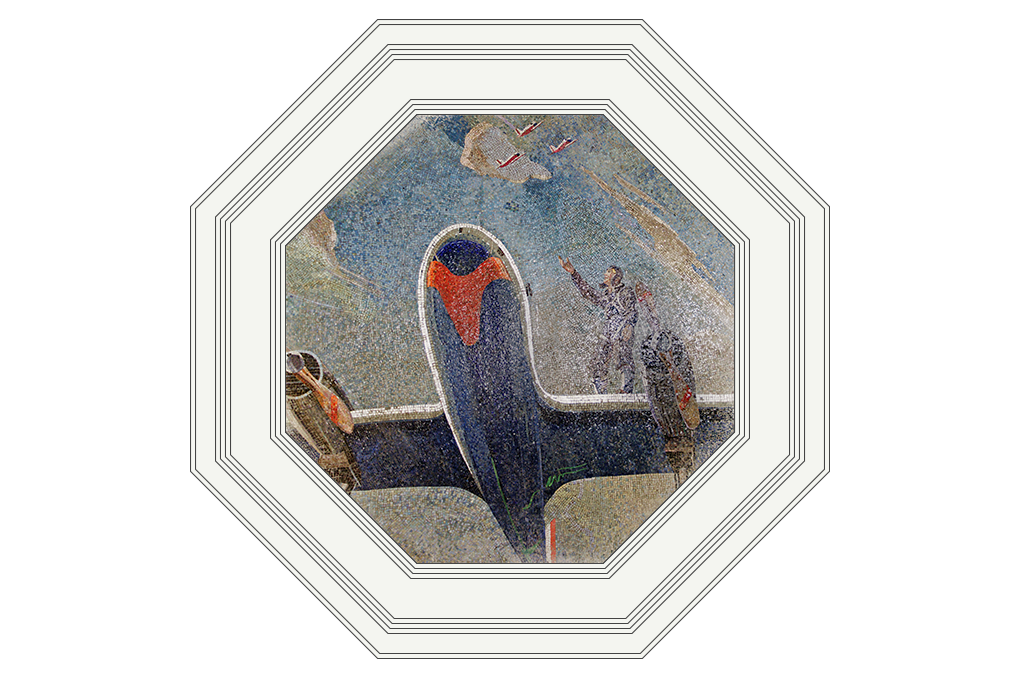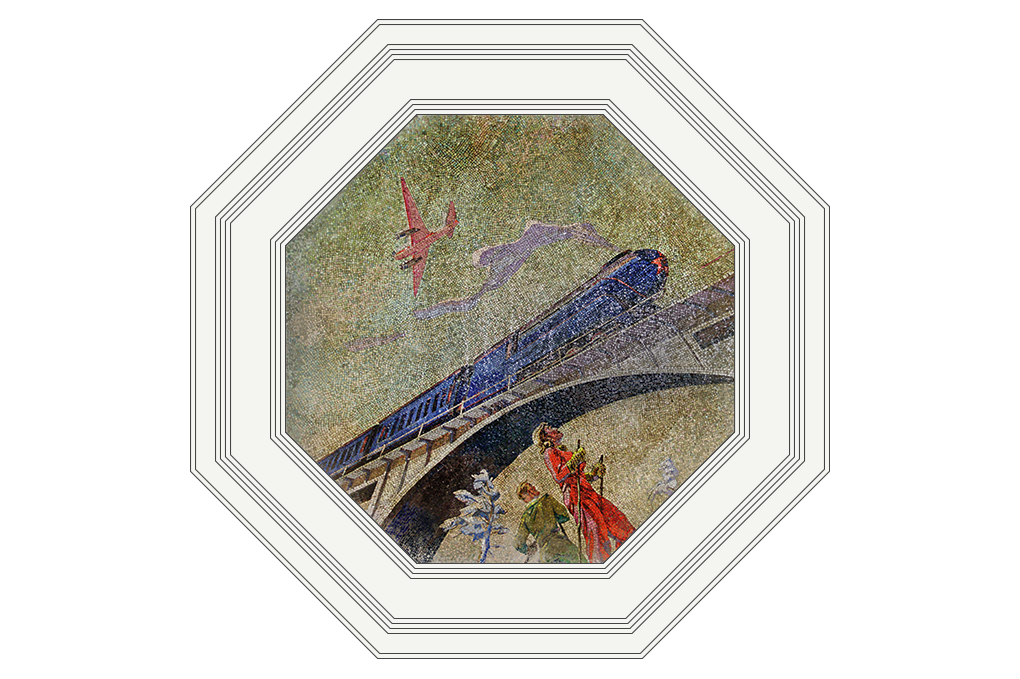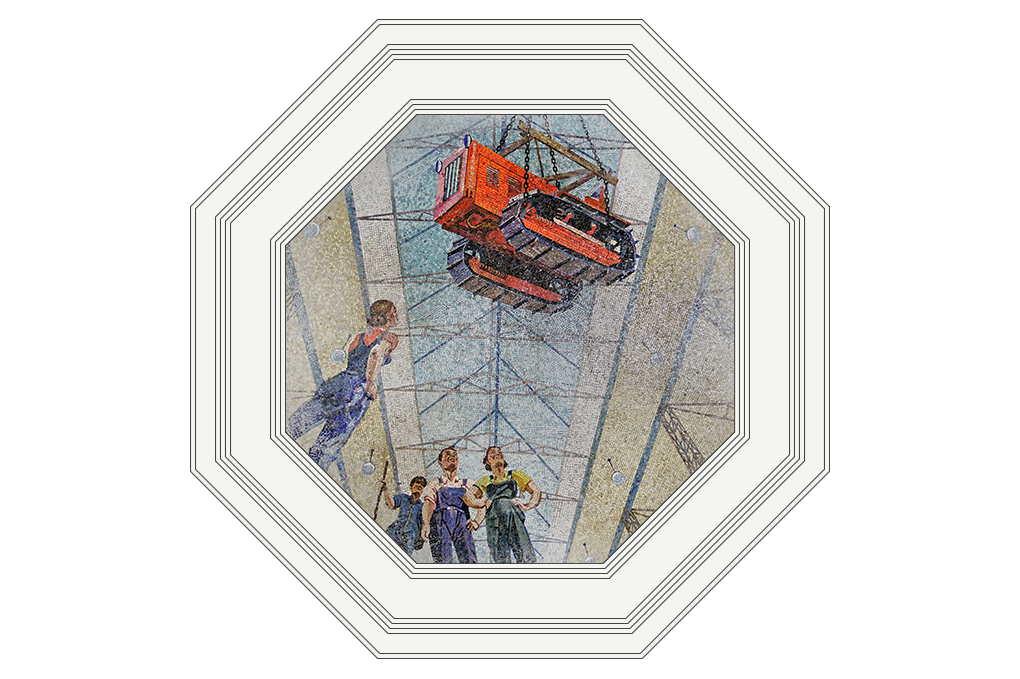 Mosaic panels adorning the walls of Novokuznetskaya station
Photograph: Evgeny Ivanov
Ordered originally for Paveletskaya station (Zamoskvoretskaya line), smalt mosaics now adorn Novokuznetskaya's walls. Sketches for them were made by Alexander Deineka, while mosaics themselves were assembled in Vladimir Orlov's studio in Blockaded Leningrad. On February 3, 1942 Orlov died of starvation.

They managed to evacuate mosaics on Lake Ladoga on one of the last ship to Moscow. There, Deineka started filling in octagons for the panels' base. But due to constant bombing, it was commanded to hide all mosaics since "they could attract attention with their golden reflection". Filled in the concrete, panels were pulled down in pits for temporary storage.

Meanwhile, the metalwork for Paveletskaya station ended up in the occupied territory, and the station project had to be urgently changed. Thus, mosaics became needless. When Ivan Taranov, the architect of Novokuznetskaya station, knew about this, he decided to place mosaics on his station. Since the central hall of Novokuznetskaya is not very long, six mosaics were installed on the station's vaulting and one in the lobby. The fate of the rest seven mosaics is still unknown.
the 1960s
THE KHRUSHCHEV METRO
At the end of the 1950s, the pompousness of Stalin's buildings was sharply condemned, and Nikita Khrushchev, the new Soviet leader, focused on industrialization of construction and standardized design. In this regard, the architects, who designed metro stations, were compelled to completely abandon any artistry. Thus, new stations embodied the esthetics of functionalism and "right angle".

First stations of the most ascetic Filevskaya line were brought into service in 1958. During this period, the so-called "centipede" Khrushchev stations were being built in the residential areas. Moreover, first overland lines and stations were opened which accounted for construction cost reduction.

In pursuit of speed and cheapness of construction, they had to give up esthetics, while imperial pompousness of Stalin's architecture changed into featureless monotony made of concrete, and excessive minimalism of the Khrushchev period.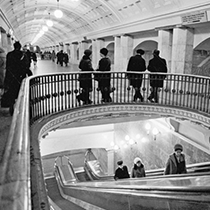 The Khrushchev Metro
Why did they abandon Stalin's Empire style, overland and monorail lines in the 1950-1960s?
Main types of station designs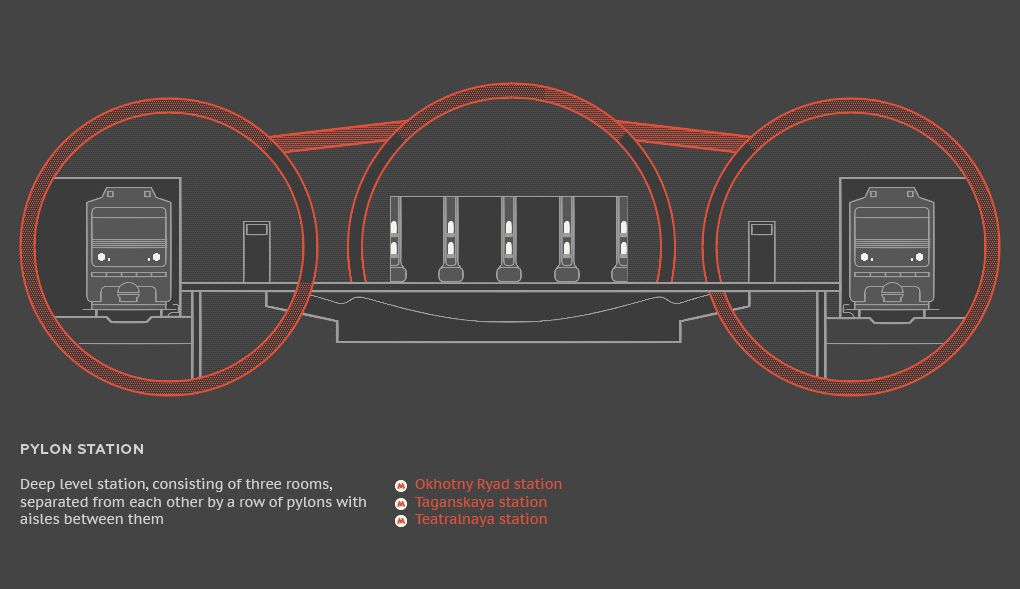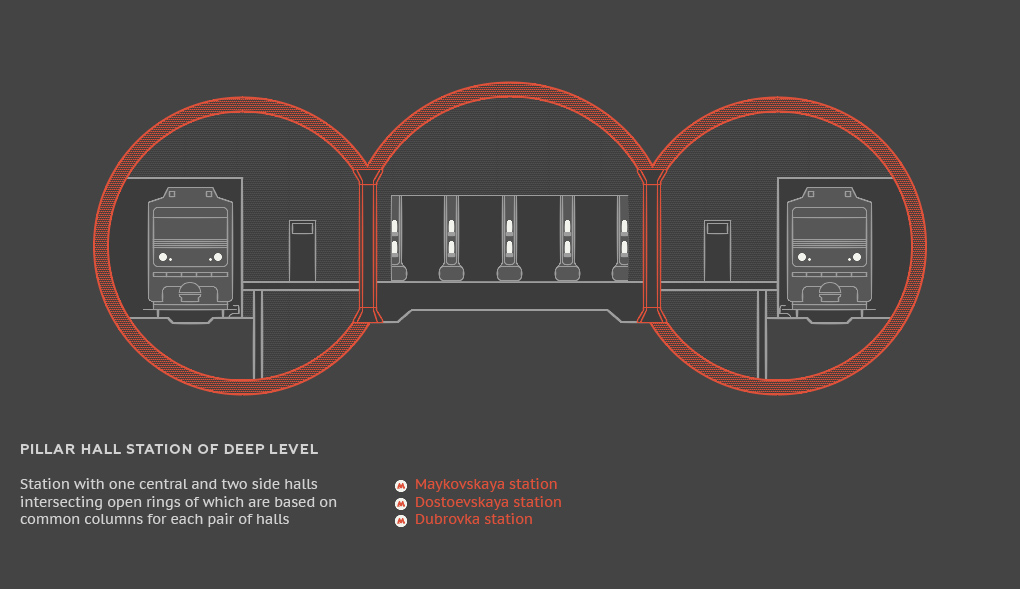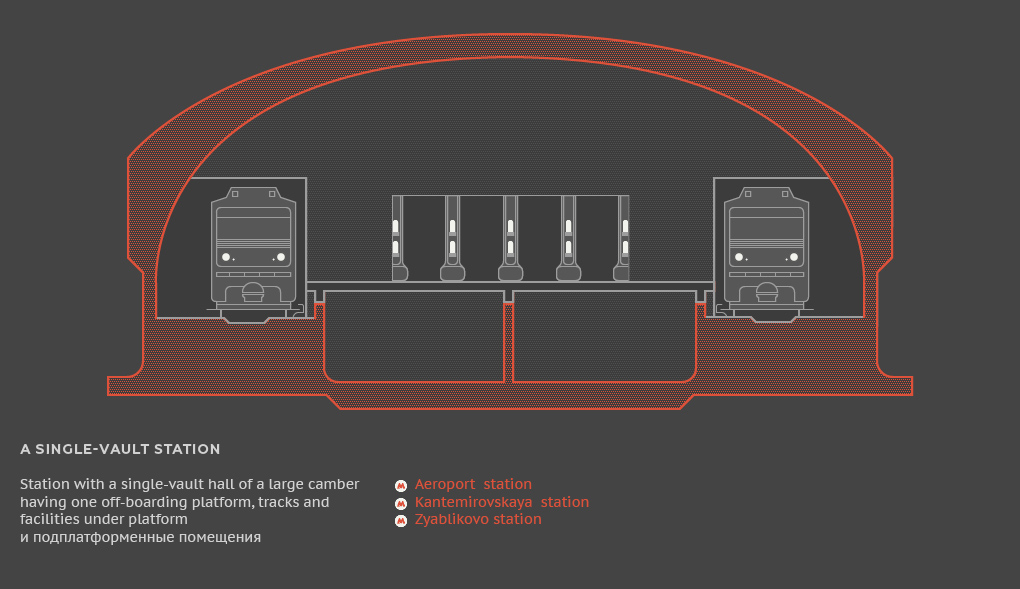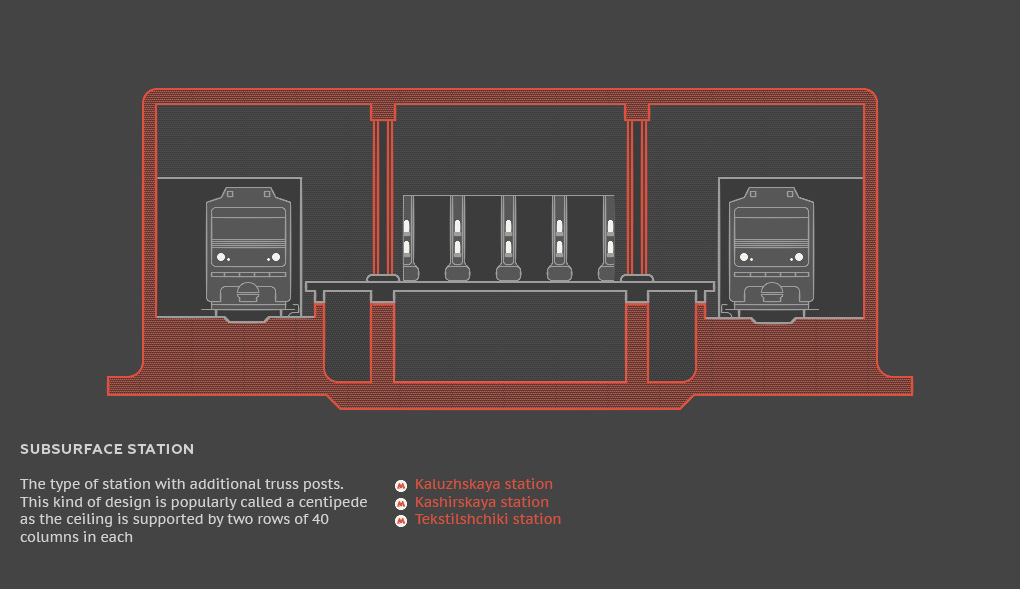 PYLON STATION
Deep level station, consisting of three rooms, separated from each other by a row of pylons with aisles between them
Okhotny Ryad station
Taganskaya station
Teatralnaya station
PILLAR HALL STATION OF DEEP LEVEL
Station with one central and two side halls intersecting open rings of which are based on common columns for each pair of halls
Maykovskaya station
Dostoevskaya station
Dubrovka station
A SINGLE-VAULT STATION
Station with a single-vault hall of a large camber having one off-boarding platform, tracks and facilities under platform
Aeroport station
Kantemirovskaya station
Zyablikovo station
Subsurface station
The type of station with additional truss posts. This kind of design is popularly called a centipede as the ceiling is supported by two rows of 40 columns in each
Kaluzhskaya station
Kashirskaya station
Tekstilshchiki station
However, it is worth saying that asceticism of architectural style of that period was associated with priority of rationalistic perception of environment as well as with the change of political situation in the country and critical understanding of the past historical stage.
DESTALINIZATION IN THE DESIGN OF METRO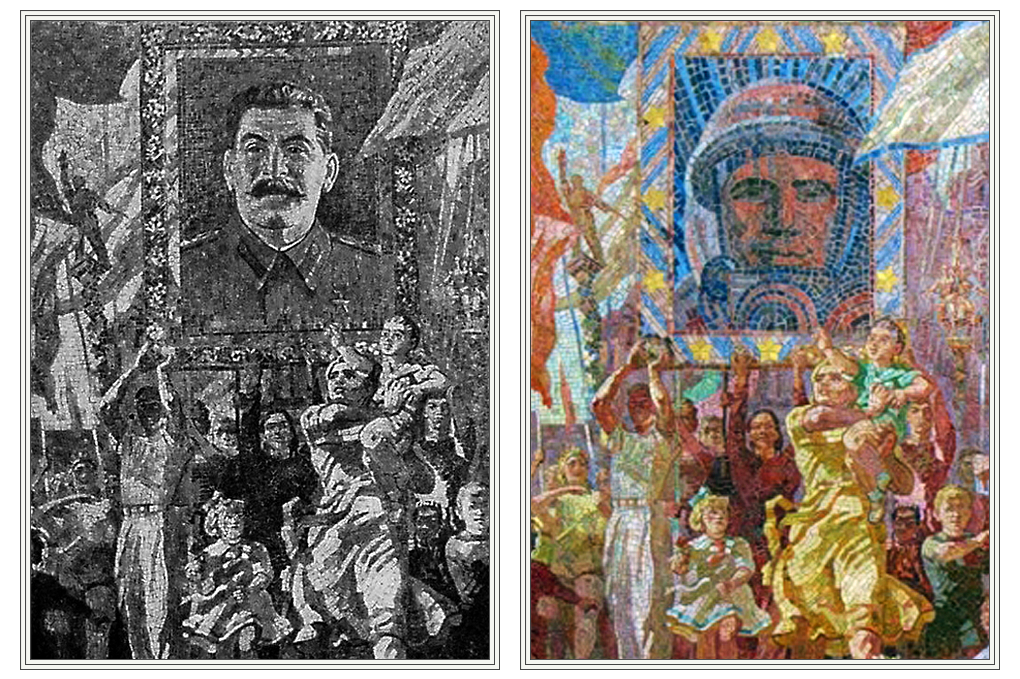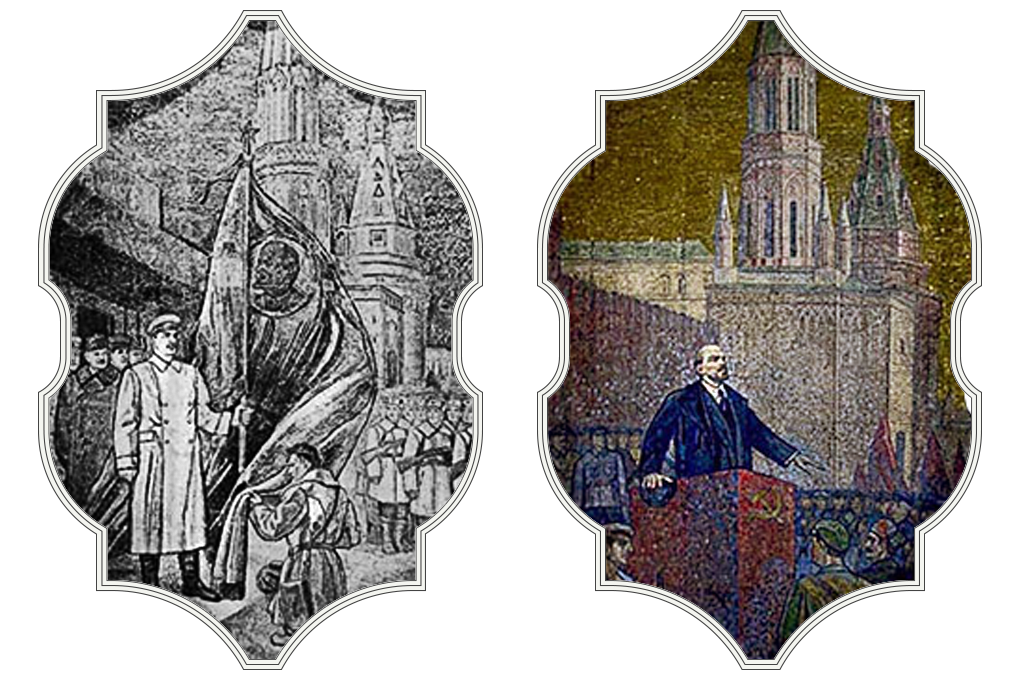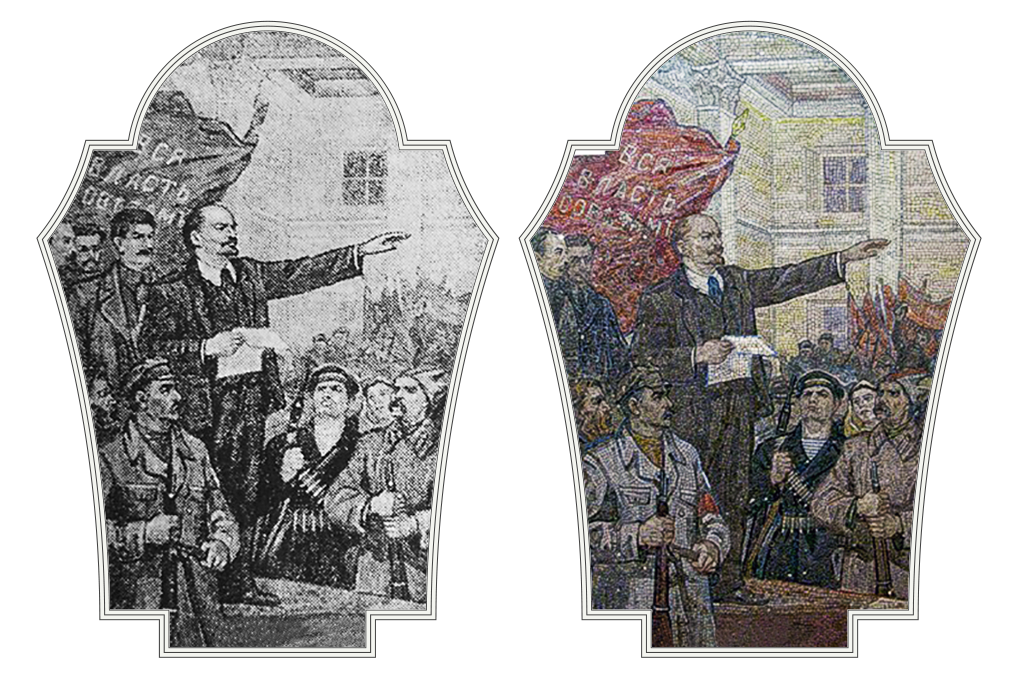 The panel "Parade of athletes"
in Dobryninskaya station's lobby
The panel "Presenting the guard banner"
and "Victory Parade"
Disappearance of Stalin from
the mosaic on Kievskaya station
After destalinization, "every single thing, non-conforming to the historical truth in full", was supposed to be amended. A number of incidents is connected with this.
Thus, in the lobby of Dobryninskaya station exultant people, holding Gagarin's portrait, are depicted on the panel "Parade of athletes". It is no coincidence that the portrait of the first cosmonaut seems to be foreign on the panel. In fact, the station was opened in 1950 when Gagarin was 16 years old, and Stalin was depicted on the mosaic before that.
MOSCOW METRO IN CINEMA
A few episodes are linked to metro in the film "I Step Through Moscow" (1964). According to the film crew, they had to work at night time and after having agreed the process with Moscow metro management. It is notable that the lead character gets on the train, going towards Prospekt Vernadskogo station which was not yet built at the time of shooting.
the 1970–1980s
DIVERGE FROM "STERILITY"
Audio announcements in metro during the Olympic Games in 1980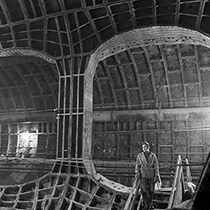 THE RECORDS OF THE PERIOD OF STAGNATION
In the 1970-80s Moscow metro architecture was not as beautiful as earlier, but pace of construction was very high
During this period, architects tend to find opportunities to create a special imaginative world even within standard designs. They develop themed programmes for the designs of stations, and return to figurativeness and decorative elements such as marble on walls of the stations, mosaics in the lobbies.
MOSCOW METRO IN CINEMA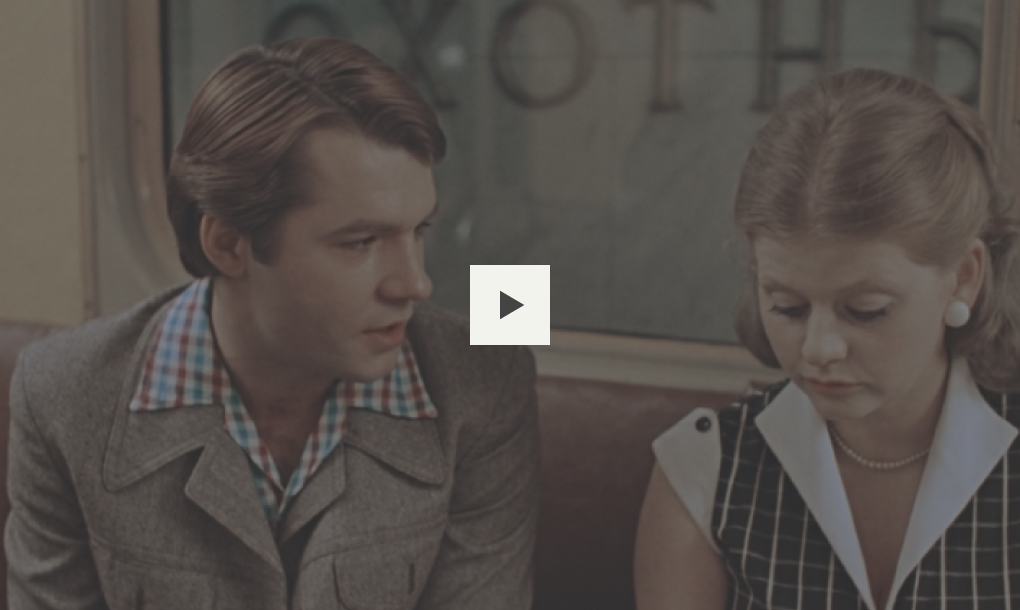 In the Oscar-winning film "Moscow Does Not Believe In Tears" metro plays the role of a chronistor. The film was shot in 1979, but the name "Okhotny Ryad" on the wall of this very station was written to remind the audience of the film's setting in 1958, before it was renamed into "Prospekt Marksa". But in fact, all metro episodes were shot on Novoslobodskaya station.
the 1990–2000s
THE TIME OF INCONSISTANCY
Architecture of Moscow metro of that period is regarded as neither classical, nor contemporary, nor post-modernist but as the one "out of time and style". The reason is that some stations were being built for almost two decades. As a matter of fact, they finally completed large-scale Soviet projects.

Economic situation in the country was dramatically affected by political transformations, while significant financial straits could not but impact on the design of stations and overall pace of Moscow metro construction.

At the same time, they continued to search for new shapes and a new language. They also resumed efforts to comprehend stations' hall space in terms of a festive interior.

As a result, at the end of the 2000s, some stations demonstrated a new reading of Moscow metro traditions and new designing approaches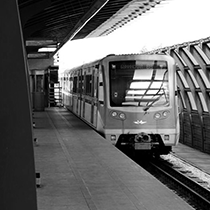 FROM SHORTAGE OF MONEY TO A NEW RUSSIAN CHIC.
In the 1990-2000s Moscow metro tried to combine unification, efficiency and "excessive décor"
"We have never been indifferent to build our metro. In the 1990s, we did not manage to meet these challenges. We were compelled to stop all metro construction processes. New time allows us to solve these issues more actively".
Approved and implemented by Moscow authorities, metro development programme covers construction of more than 160 kilometres of metro tracks and 78 new stations over the 2011 to 2020 period.

As part of the programme, special attention is paid to architectural ideas. In 2014, for the first time in many years, they held international contest on designing projects of two new stations – Novoperedelkino and Solntsevo.

The finalists stand out by contemporary outlook on metro station designs, their projects combine global trends and Moscow traditions.

Following the results of the contest, Russian bureau Nefa Architects will take on Solntsevo station project (rus. solntse – sun). According to the designers, station's look should bring up an association with the real sun. In order to create a "sunny" atmosphere, they are planning to vent walls and ceiling so sunlight gets inside through perforated metal sheets.
Draft station projects of Solntsevo and Novoperedlkino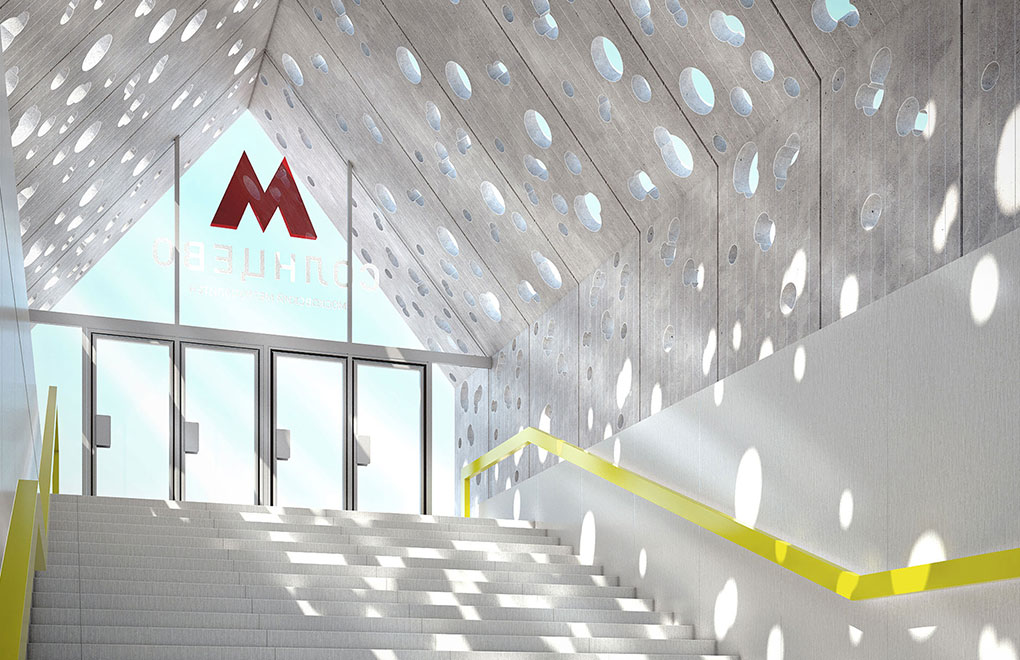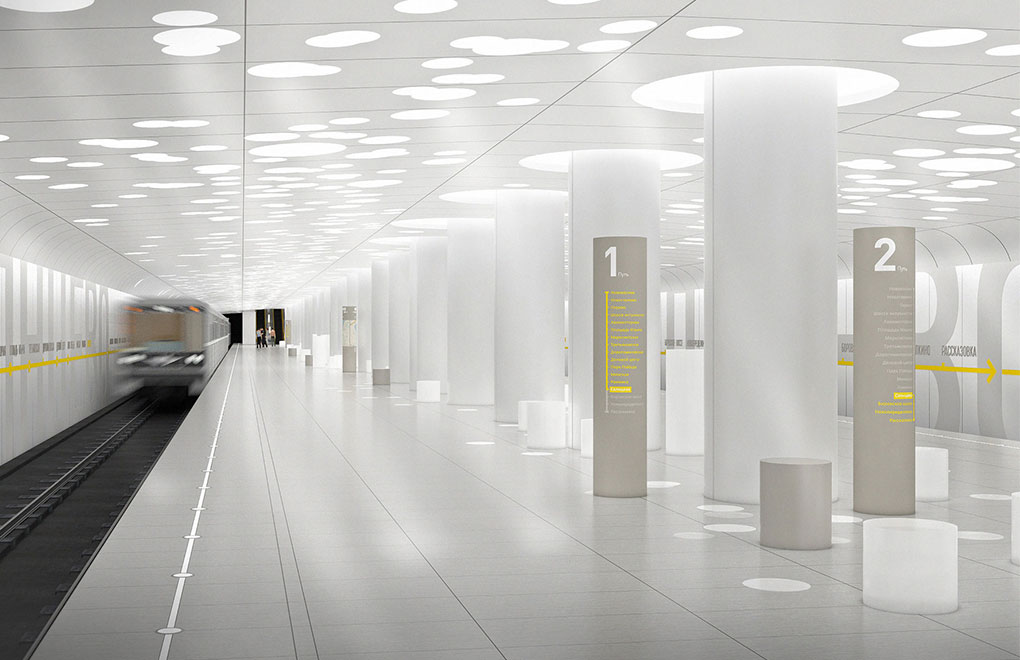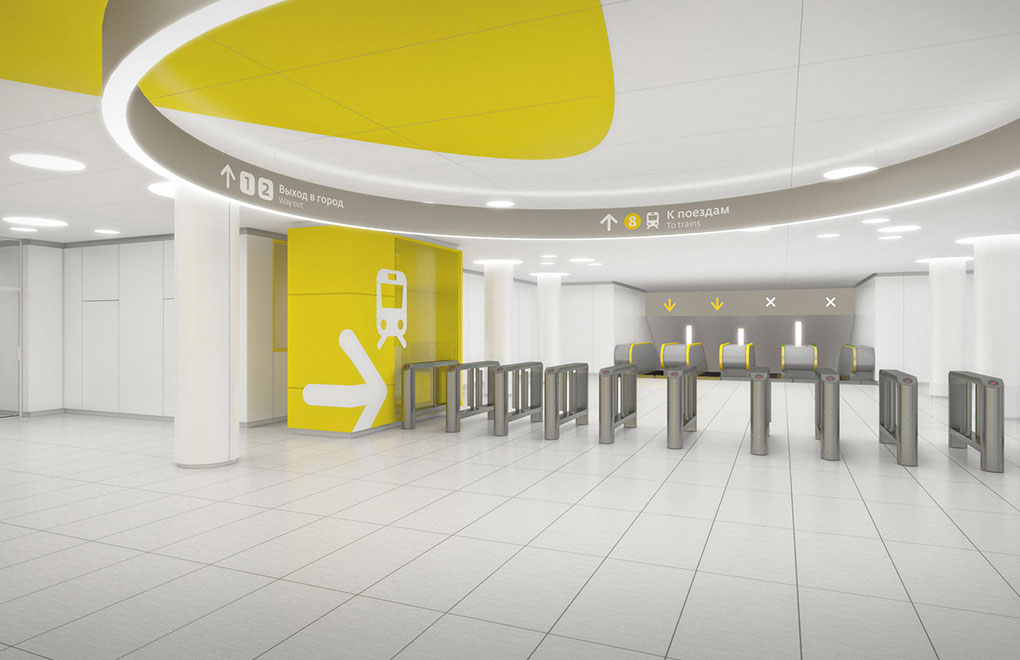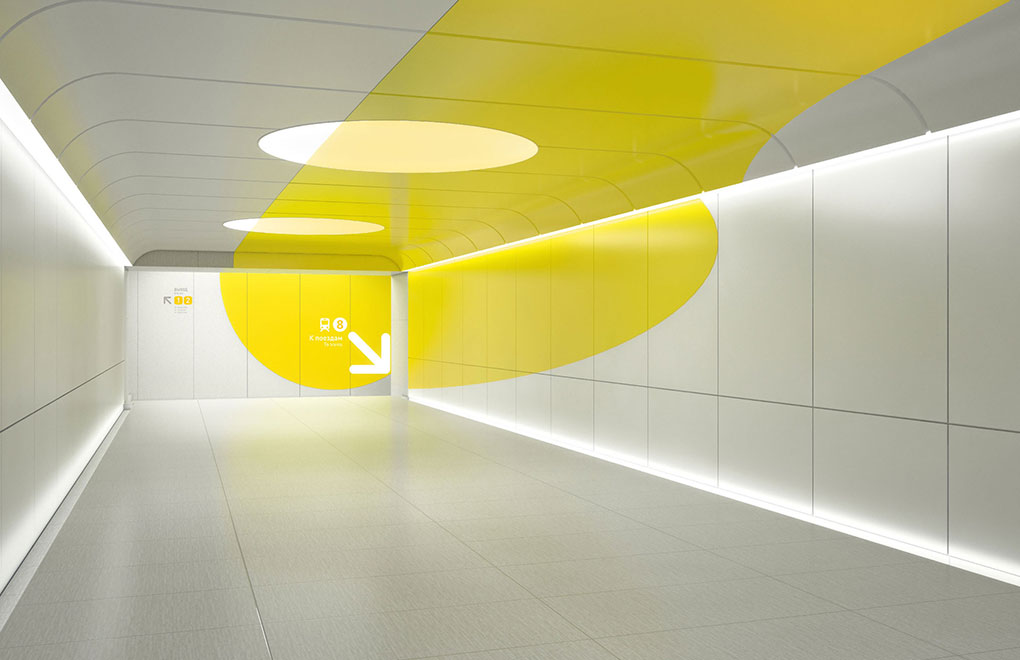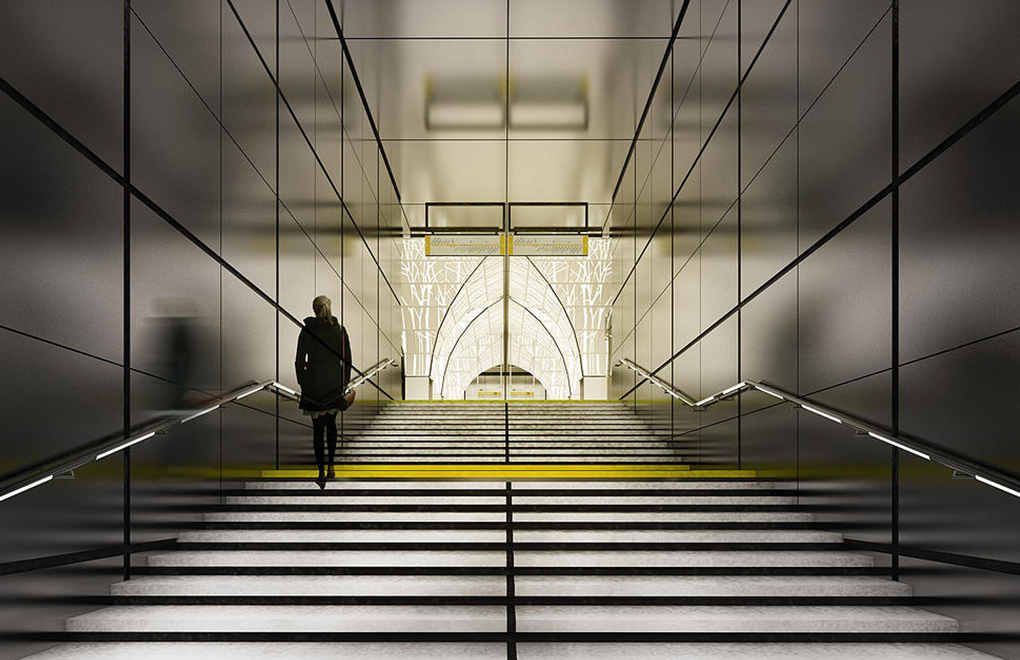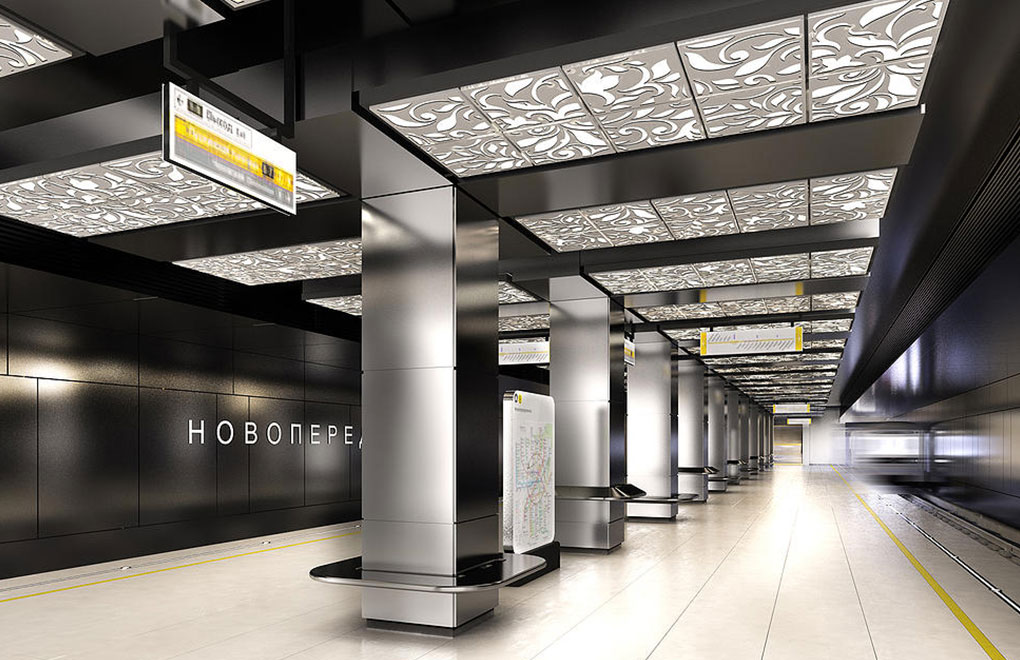 Project of Solntsevo station
designed by Nefa Architects
Project of Solntsevo station
designed by Nefa Architects
Project of Solntsevo station
designed by Nefa Architects
Project of Solntsevo station
designed by Nefa Architects
Project of Novoperedelkino station
designed by Nefa Architects
Project of Novoperedelkino station
designed by Nefa Architects
Latvian bureau United Riga Architects are in charge of Novoperedelkino station design. In their project, they tried to reproduce decorations of "palaces and houses of old Moscow".
MOSCOW METRO PROGRESS BY DECADES